For most of my career as a web developer I've produced websites that work without JavaScript. For the JavaScript impaired the sites may be missing a minor visual feature or be a little clunky in places, but they work and the meaning remains clear. It doesn't bother me that, sometimes, the cost of allowing for sites to load without JavaScript can mean missing out on the latest web fashion. I'm not a big fan of fashion.
Currently, web development is undergoing some major transitions: the HTML5 spec is being developed and CSS3 is being implemented. The browser wars have returned, although this time around, it's a battle to win developers' hearts by implementing the newest standards.
Now is the time for developers to re-evaluate their past practices; moving on from the old and embracing the new. I kept that ethos in mind when upgrading the Soupgiant WordPress base theme recently. Among other things we were porting it to HTML5.
I really tried to adopt the commonly advocated view that it's okay to require website visitors have JavaScript enabled. It was going very well, right up to the final hurdle when I couldn't resist checking the site I was working on without JavaScript.
Everything looked fine in Chrome, Firefox, and Opera. It was, predictably, Internet Explorer that threw a spanner in the works. For an artist's impression, visit the demo in IE8 (screenshot via WebPageTest):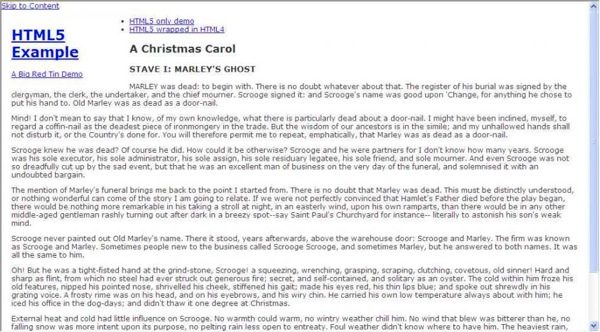 Without Remy Sharp's HTML5 enabling script the site I was working on was unusable, if anything, it looked worse than the demo provided.
I couldn't, in good faith, sell a website to a client that some visitors would find unstyled, half styled or difficult to follow in places. I didn't want to throw out the baby with the bathwater, the additional meaning provided by HTML5 elements is just too great. <header>, <section>, <nav>, <article>, etc all provide meaning to a document that it's difficult to justify going without.
It's with the additional meaning in mind that I decided to go with – what I've dubbed – HTML4.5. HTML5 provides the meaning while using traditional HTML 4 tags as hooks for styling. It introduces a bit of tag soup, as instead of <article id="content"> ... </article> the code becomes <div id="content"><article> ... </article></div>.
The improvement to site I was working on was immediate, as you can see by visiting the html4.5 demo in IE8 (screenshot via WebPageTest):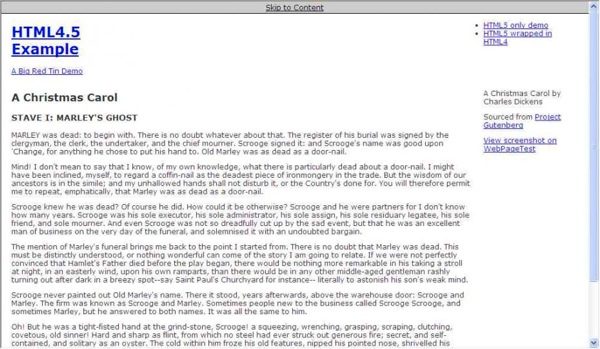 I don't care about tag soup
If given the choice between an unusable website for some visitors or a little tag bloat, I'll take the bloat any day of the week. In the demo the bloat adds an extra 14 bytes. On the home page for the site I was working on, it's 40 bytes. I save plenty more than 40 bytes by minimising my JavaScript and CSS (a single key combo with the YUI Compressor TextMate bundle), so I'm not too concerned about the side effects.
A technically beautiful site is the ideal but if a portion of your visitors can't use it, then the beauty isn't even skin deep. As Drew McLellan said recently on 24 ways, progressive enhancement is "also known as doing our jobs properly."